WHAT IS FLAGLE?
Flagle is an exciting guessing game with the theme of flags and based on Wordle, you need to make an effort to guess the country's name correctly within 6 tries. A new Wordle version called Flagle operates similarly to Wordle but uses national flags instead. When you guess the right name of the flag, the color of the boxes will change. The main idea of this game is to help players identify the country's flag as soon as possible. The contestants who properly identified the nation's flag with the fewest guesses are declared winners. Depending on what is more convenient for them, players can play this game on either their laptops or their mobile devices. Playing this brand-new online wordle flags game should be enjoyable if you enjoy challenging games. You can play this game every day with your friends and relatives as it has the daily version and it is not hard to control Flagle.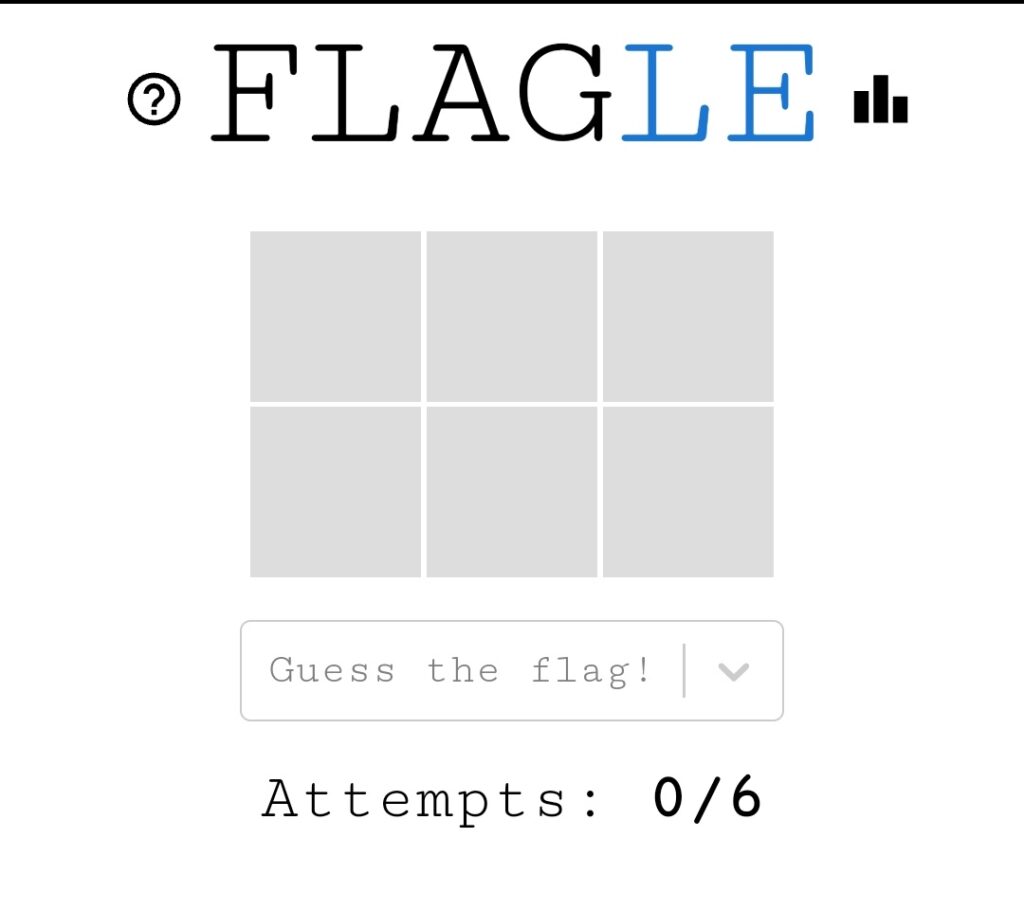 FLAGLE - ONE FLAG PER DAY
There is only one game option available in Flagle today, unlike other Wordle substitutes that may be obtained online. You will be unable to play any more rounds after correctly guessing the flag of the day. Similar to this, the developers of the Flagle game have said that two new game modes will be added very soon, raising the "puzzle's" difficulty higher.
HOW TO PLAY FLAGLE
Flagle is popular at this time and attracts various players. To play this game and become a winner, you need to follow its instructions.
You have six trials and your mission is to find the secret flag.

A valid nation from the list must be the source of each attempt.

A new portion of the flag and a distance indication will be revealed after each attempt, according to the game.
The Flag wordle game enables you to post the results to social media while hiding the day's Flagle answer. This ups the suspense and encourages players to compete to guess the country first while also raising the intrigue surrounding the word of the day. There are specific cues specific to each nation. A fresh flag is flown every day.
Example:
When you choose your flag from the list, it will display a portion of the flag to look for on each attempt. In every attempt, you are only allowed to choose one nation from a choice of national flags.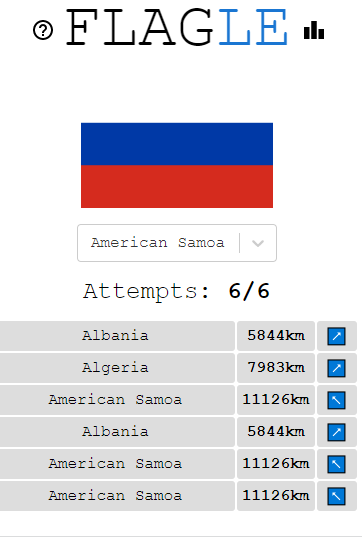 It is not necessary to download a flagle wordle in order to play this country's daily game online. To see your statistics on the icon above, where you can see: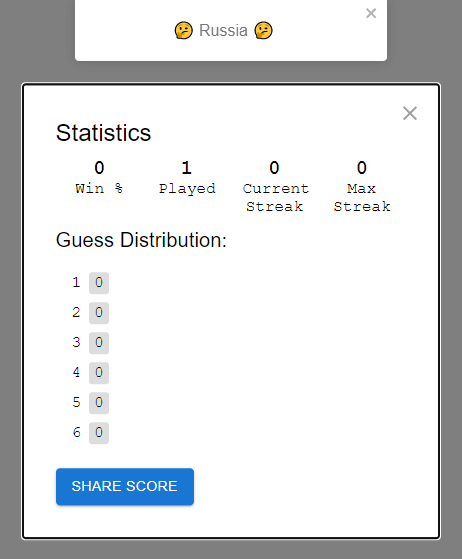 RULES FOR SUCCESS
Although Flagle has easy control, you can become a master thanks to following Flagle hints.
Play Flagle today
Firstly, you can search flags on the Internet to find the name or the image of country flags in this world. And then you need to create as many hints as you can from the distance of your attempts so that it will be simple for you to accomplish the flagle task in the remaining five tries.
Play Flagle unlimited daily
Since you may start playing this minigame for free without having to register or do anything else, you don't need to download the Flagle app. Incognito mode allows you to play repeatedly.
WHAT ARE THE BEST ALTERNATIVE GAMES FOR FLAGLE?
The Weaver Game (word ladder) is a fantastic wordle game in which you must guess the correct words while relaxing in the world of addictive challenges.
Phrazle is a brand-new, compelling, and difficult game. It is available for play anytime, anywhere, with friends or family on this site. The best way to win this game is to focus and quick thinking about what is needed to play; no exceptional abilities are needed. Only one player can simultaneously see the correct words while everyone else sees the identical board with letters in various colors.
You have to find words buried within a letter grid is the purpose of the free online word game Phoodle. Three food-themed categories (breakfast, snacks, and dinner) and 17 food-related clues are what set Phoodle apart from other games. And you try to select the best response out of five words that are compatible with the given hints. Once you comprehend them better, you will become accustomed to these straightforward actions!
Heardle is a simple and enjoyable puzzle game with a fun music theme in which you must guess the song from the intro.
Players in Octordle alternately guess words made up of 8 letters at once. There are 13 chances to get it right, and you can use the remaining chances as much as you like until someone else guesses the words for you.
FAQ
Flagle vs. Wordle: Are They Actually Different?
Unlike other Wordle games, The Flagle has special rules. The same color-coding system is used by Wordle and the majority of its versions to indicate the right word. The tries are the same as in other games, however, different rules apply to certain situations. You will have six chances to choose the right flag in Flagle.
Can I Play Past Flagle days?
Only one game of Flagle Unlimited may be played per day. The next game must be played the next day or at midnight in your time zone. After twenty-four hours, the game will be restarted. The same unidentified flag is used by all players in the game Flagle. Thus, you can not play Past Flagle days.
Can I play Flagle Unlimited?
Everyone can play Flagle Unlimited, you can play this game in Incognito mode with unlimited times.