Wheredle
Wheredle is a fantastic spin-off game from the most well-known word-puzzle game, Wordle, in which you must guess a different state from the EEUU every day.
Instructions
Wheredle is a simple alternative wordle game that requires no download. There have been thousands of plays in just a few days. After discovering the hidden state, the player has 24 hours until they can play the game once more. We view completion of this daily challenge as a success.
The condition of Google Street View photos can be determined by contextual cues like street signs and landmarks. Your map will show an arrow after each wrong guess. It specifies the precise spot you must visit to reach the desired state. Before responding to the question, you should give it some thought. There are only so many times that each participant can guess. If you win the game or have a strong performance, you can choose to post the results on social networking platforms.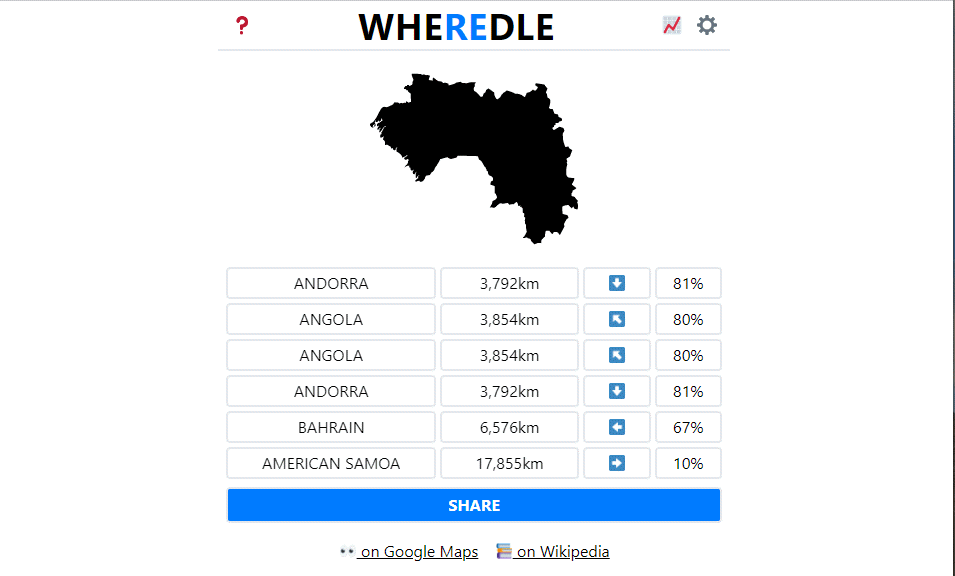 Rules
In 7 attempts, you can guess the state.

You will be able to see whether your guess was correct or not after each guess.

If your guess is wrong, it will let you know which direction to go.

Every day, a new Wheredle is available!
Do not forget to check our collection of geography for more fun! Flagle is an exciting game that focuses on the theme of flags. It's based on Wordle and requires you to correctly guess the name of the country within six attempts. Explordle is a great way to have fun and discover the world!
PUZZLE
geography
guess
where