Xordle
In Xordle, a fun Wordle spinoff like Dordle and Hello Wordl, you have to guess the right word nine times in a row.
How to play
This customized Wordle puzzle is very popular because it is easy to do and you have 9 chances to finish it. When a user solves a word, they can't play again until they get a link to a new word. We think it's a success because it's fun and easy to do.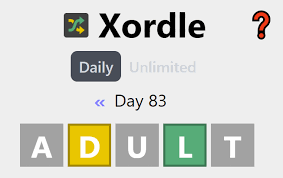 Rules
You have nine chances to find the hidden word.
Each try must be a five-letter word.
Each time you try to spell a word, the color of the letters changes to show how close you are.
Nobody knows two words.
They have nothing to do with each other.
You can guess the words nine times.
Give a random hint to get things going.
It works the same for everyone.
You can share the results of the game on social media and hide the letters. Look for the word that came before it.
WORD
wordle
logic
guess
search