Wordlerry
Wordlerry is a brand-new Harry Styles game where you have to guess a difficult problem that is modeled after the most well-known word game, Wordle.
Instructions
You may play Wordlerry all day long. In this game, you must correctly pick six Harry Styles words. Compared to the original, the wordle is more challenging. We'll demonstrate how to use this word cloud for music. You don't need to install anything to play the word-guessing game Wordlerry, which is completely free. Use the grid system to swiftly predict Wordlerry terms.
Rules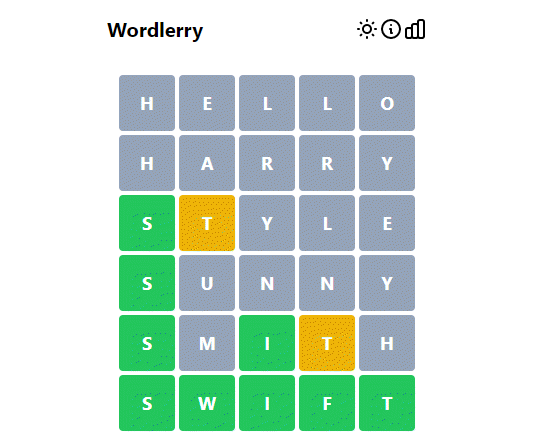 In just six tries, you can correctly predict the Harrydle.
The color of the tile will change after each guess to show how close you were to the word.
A green column indicates that there is a match.
The match is biased in favor of the unidentified Harry StylesWord, as shown by the position column in yellow.
The letter grey is not a match.
WORD
PUZZLE
guess
harry potter