Subwaydle
Subwaydle is a new and fun game where you have to guess a two-transfer subway trip correctly.
How to play Subwaydle
Using the browser game Subwaydle, you have six chances to figure out a subway trip with two transfers. Guesses for Subwaydles must be real subway rides in New York City. Guesses in Wordle have to be real words as well. This is only true when the train is running normally. If a rail line is not on the route, it will be shown in gray, yellow, or green, depending on where it should be. A quick stop at a subway bar is not part of any trip.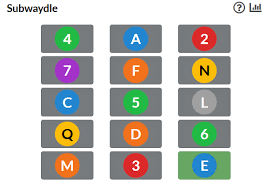 PUZZLE
geography
subway
trip