Qwordle
In the intriguing word-puzzle game Qwordle, you have six tries to find the words that are intertwined in each other.
Instructions
Your spelling and vocabulary will be put to the test in the word game Qwordle. Even if the rules are straightforward, it might be difficult to get every word right without making mistakes. Log in for 20 minutes each day to maintain your abilities. It will get harder as you add additional letters and words to the game. Having fun
One such instance is the guess(TAXES), which contains letters from both the hidden words, MUSIC AND WALTZ, but where T and S are misplaced and A is in the proper position. Due to the various letters in the words, there will be tiles throughout the entire guess that are only partially filled. This suggests confusion and interference.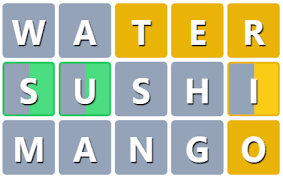 Rules
Guess any one of the two words in six trials.
Each effort must include a genuine 5-letter word.
After each attempt, the color of the letters changes to show how close you are to correctly spelling the word.
The entangled word pairings never contain two words with identical letter combinations (contain disjoint sets of letters). Simply pick one of the two words in the pair correctly to win.
WORD
wordle
brain teaser
logic
letter
guess