Primel
Primel is a fun number puzzle game where you have to guess a secret word and figure out a prime number with five digits.
How to play
Players can make more than one guess at the same secret word while playing Primel Wordle. As clues are given, more clues can be given along the way. Instead of looking in the dictionary for a secret word, players must find a five-digit prime number.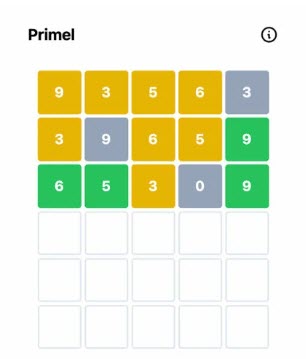 As long as you know what prime numbers are, Primel is an easy game to play. Choose a five-digit prime number as your starting point. You will get a set of green and yellow tiles based on how close you are to the correct prime number of the day. If you get a green tile, the number you chose is right. Having the right number is shown by a yellow tile. But it belongs somewhere else. Many people think it's easy to find prime numbers, but it can be hard and take a long time. If you have the right skills and know how to use them right, there are easy ways to speed up the process. This article will talk about the most common ways to find primes, as well as ways to speed up the process and make it easier and less time-consuming.
PUZZLE
logic
brain
number